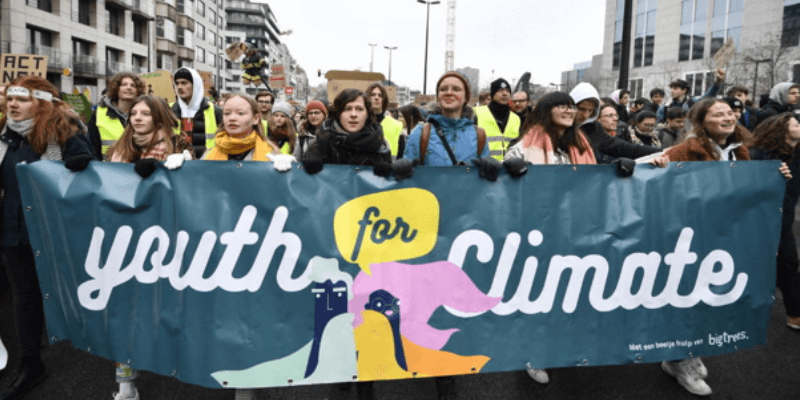 Teenagers, activism and ecology
By Maelly
On 13/06/2020
0 comments
December 2018: many articles concerning a certain Greta Thunberg young swedish ecologist activist then aged of 15, start to emerge in the press. It's after her speech during the COP24, the United nation Summit about climatic changes, that she becomes famous abroad. Her history goes also around the world thanks to the video of her speech and the associated articles.
We learn that the teenager is not unknown in the swedish press because she sits each friday before the parliament since August 2018 to make her displeasure known.
On social networks, the young girl calls for the students of the whole world and invite them to join her in her fight againt the global warming.
Quickly, gatherings for the climate are organized accross the world: The Fridays for future movement was born. It acquires considerable significance in the developed countries and rallies are very publicised especially in Sweden, Australia, Netherlands, Germany, Belgium, Canada, US and in UK.
According the online media dealing with these gatherings, we note that most of the quoted people as instigators are tenneagers and that articles and videos are devoted to them, they carry this movement in their city or their country.
We can quote the more publicised as the Belgian Youna Marette, Anuna de Wever, Kyra Gantois or Adélaïde Charlier, each described as frontrunners of many movements adhering to the continuity of Fridays for the future in Belgium, whose Youth for Climate.
On the pictures of these articles, we observes that young girls are the most numerous and the most present at the forefront.
It is astonished to see that the "feminine" is more visible there while this part of the population is the least often represented in media in terms of decision-making process and power situation.

Would the women feel more concerned by the ecological problematic than men?
Does a link exist between ecology and women - and even between ecology and feminism?
Is it fair to think that a battle of convergence would be relevant for both movements?
According the slogans sometimes daring from the signs carried by protestors such as " Stop fucking up our seas", "Eat my clit, not the climate", "Pubis and forest stop shaving everything" and many moren indeed it seems that a link exists between the women domination by men and the planet exploitation by humans.
A kind of agreement between two big societal woes: patriarchy and ultra capitalism.
This is here that a concept operates stil uncommon in France: Ecofeminism.
Maelly Sanchez

Resources :
https://www.youtube.com/watch?v=HzeekxtyFOY / https://www.youtube.com/watch?v=P1DPkcBl05Q / https://www.youtube.com/watch?v=SOoNcDi7k3M
https://www.liberation.fr/planete/2019/01/31/qui-sont-les-jeunesorganisatrices-des-greves-pour-le-climat-dans-le-monde_1706079
women and ecology engagement teenage girl activism