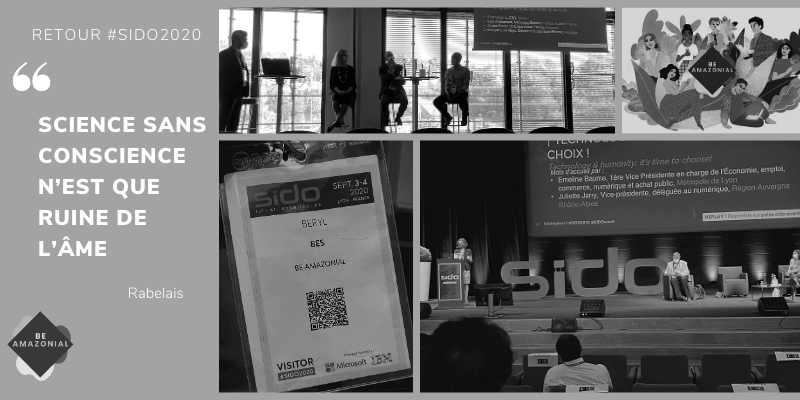 Tech is neither good nor bad !
Looking back on two exciting conferences at Sido 2020
I had the pleasure to attend the largest European showroom dedicated to IoT (Internet of Things), AI (Artificial Intelligence) and Robotics which took place on September 3rd and 4th, 2020 in Lyon.
In this difficult period, it was a great joy to see people "in real life", although masked, exchanging, sharing, convincing ...
I attended two conferences on the theme "The responsibility of the Tech". The quality of the talks that I followed attentively made me want to share my notes with you!
These exchanges reinforce my convictions on the obligation to develop a responsible digital technology, respectful of the planet earth that welcomes us and the women and men who occupy it.
My commitment to the Be Amazonial collective takes on its full meaning here.
I hope that the awareness we are witnessing will not only be a fad, but will be a long-lasting one. It is our responsibility towards the next generations.
Looking forward to exchanging,
Beryl
www.sido-event.com
CONFERENCE TOPIC 1
"How to reduce the Tech's carbon footprint!"
Tech's energy bill is skyrocketing! More and more data, more and more digital uses on more and more equipment and networks, more and more energy consuming...
This crazy growth makes you dizzy. It's time for companies to take action and make systems more energy efficient.
Obsolescence, eco-design, green data centers... An overview of solutions and testimonials from committed companies.
Speakers
● Charly HAMY - CTO Cloud & Mobile - Rtone
● Elvir MUJIC - Director MINALOGIC St Etienne - Minalogic
● Lise MALBERNARD - Managing Director - Publicis Sapient
● Xavier PERRET - Director Azure France - Microsoft
Xavier PERRET went back over the commitments made by Microsoft on these subjects, particularly internally with a carbon tax for each employee, in order to change behaviors.
He also mentioned innovative projects such as :
Natick, underwater data centers off the coast of Scotland: https://urlz.fr/7dPG
or
Silica: storage in glass, an innovative technology that would allow to restore files without altering their quality, but also to store large amounts of data at a lower cost. https://urlz.fr/dQaD
He also wrote this forum in the media Strategy https://urlz.fr/dQaF.
Charly HALY reaffirmed that the keys are in the USES of the connected objects. Stop to the gadgets objects which have little use and consume a lot of energy.
Another subject evoked: The luminous billboards which consume a lot of energy.
However, data has a real use in the service of our energy consumption, for example, the Linky meter is interesting because it enables us to optimize household energy consumption through data knowledge. Everywhere, initiatives are being implemented to sort waste, renew equipment, consume better, and protect our environment.
A few examples:
Tech
Only green: application by a Lyon-based startup to better sort this waste https://www.onlyvert.fr/ https://urlz.fr/dQaK
The Surfrider Foundation, which works to protect the oceans, especially from plastic https://surfrider.eu/
Excerpt: "In 2020, Ocean Initiatives takes a new turn in participatory science. Surfrider Europe now offers to those who wish to use the Marine Debris Tracker application (downloadable from AppStore or Google Play), to list each waste collected. Alone or in groups, on a walk or on the way to work, whether you pick up a plastic bottle or 15 cigarette butts on your way, it is now possible to transmit this information to Surfrider Europe via a mobile application. This is a new way for the association to obtain valuable pollution data, which is essential to strengthen the expertise of Surfrider Europe members and enable them to go even further in their actions to protect the Ocean. "
Directly from the breeders, the brand that develops . It is the result of the grouping of three dairy farms producing two million liters of milk per year and wishing to innovate their business model. To produce, process and sell a healthy, ecological product, from producer to consumer. https://www.endirectdeseleveurs.fr/

Open source data
Ecovadis now allows to have evaluations of its CSR policy https://urlz.fr/dQaQ
Azure Carbon Calculator: https://urlz.fr/dQaV
The Microsoft Sustainability Calculator helps large organizations analyze the carbon footprint of their IT infrastructure https://urlz.fr/dQaX https://urlz.fr/dQaZ
Finally, the speakers exchanged on the Dark mode less polluting, that everyone should implement on their digital tools https://urlz.fr/dQb0.
They also discussed the Transform your net.0 project: Nine multinationals, including the French group Danone, announced in July 2020 the creation of the "Transform your net .zero" initiative.
The objective of this project: to share research, strategies and best practices to accompany all companies towards carbon neutrality. https://urlz.fr/dQb2 https://urlz.fr/dpKO https://urlz.fr/dQb7
There is still little data and hindsight on the subject, but the awareness is there. The State, local authorities, major groups and communication have pushed for ALL DIGITAL but we must be warned of certain dangers linked to digital technology and move towards a responsible digital environment.
This subject of the carbon footprint of the Tech is recent, but it is unavoidable.
CONFERENCE TOPIC 2
Technology and humanity: time to choose!
Technology is changing the way we live, work and think. That it is a source of progress created by and for mankind is a postulate!
The major digital players have a societal responsibility to serve the common good. At a time when the world is being digitized, when the economy is being robotized, and when AI is a source of concern for the future of humanity. "We must know what we are doing and what we want to do. It's not the machine that has to make choices for society, but the man who has to decide what it will bring to it. "It is up to us to make the right choices, for today and tomorrow.

Speakers
● Andra KEAY - Managing Director - Silicon Valley Robotics
● André MONTAUD - Managing Director THESAME innovation - Thésame
● Emeline BAUME - Senior Vice President in charge of Economy, Employment, Trade, Digital and Public Procurement - Lyon Metropole
● Juliette JARRY - Executive Vice President Digital - AURA Region
● Nicolas LETERRIER - Chief Technology Officer - Schneider Electric
● Michel PUECH - Philosopher, Professor
● Vincent CALLEBAUT - Architect
Mrs Emeline BAUME, in her introduction, recalled the main principles
Respect for private data
Intelligibility Transparency, knowledge
The responsibility of the collective / individuality Attention to the common good
Mrs. Juliette JARRY also recalled the importance of training, the challenge of the next digital campus and preserving diversity.
Note that Mrs. Andra KEY is very committed to the place of women in Robotics, values we share at Be Amazonial :) https://www.womenmeanbusiness.com/2015/12/4967/
https://urlz.fr/dQbc. This aspect remains to be fully addressed in France and elsewhere as described in this article https://urlz.fr/dQbd.

The philosopher Michel PUECH questioned us about technophobic prejudices, present in the title of this conference.
He describes the negative points and acknowledges our society of distrust. Our value system has changed and we have less confidence in progress.
He evokes Kranzberg's law, an interesting starting point, "a technology is in itself neither good nor bad nor neutral".
Most important is the "neither neutral"; which means that technological innovation implies, at a minimum, an ethical adaptation, and at best gives rise to ethical innovation.
Here is a text to deepen his point http://michel.puech.free.fr/docs/110630abstract.pdf
Just as progress modifies, as the appearance of fire did, just as the first tamed technique, just as the knife did, just as speech does, just as all progress does, digital changes our lives forever.
We tend to see screens as a cause for concern while forgetting that free access to all knowledge is simply great.
As a result, screenwriters are coming up with the concept of the "flip-flop" where technology turns against us: Black mirror, Les guignols de l'info, "Progress was better before" Cabrel, etc ...
Intervention of the American Andra KEAY who shared with us a large number of examples of innovation at the service of the environment.
indoor agriculture
FarmOs opensource Application https://farmos.org/
Telegarden, co-directed by Ken Goldberg and Joseph Santarromana, is a website allowing to control and observe remotely a garden supervised by a robotic arm. The interactive installation was developed at the University of Southern California and put online in June 1995. The Telegarden was moved in September 1996 to the lobby of the Ars Electronica Center in Austria, where the work remained, online and physically present, until 2004. http://www.artwiki.fr/cours/technoromantisme/telegarden.html http://archiverlepresent.org/fiche-de-la-collection/telegarden
Alphagarden another project supported by Ken Goldberg https://goldberg.berkeley.edu/art/AlphaGarden/
Aquaai https://www.aquaai.com/ with its robot fish
TortuAgtech picks https://www.tortugaagtech.com/ for strawberries
She concluded her talk on the importance of ethics in robots https://fr.wikipedia.org/wiki/Robo%C3%A9thique
Nicolas LETERRIER spoke about the energy consumption of SUVs, which is catastrophic compared to that of aviation and digital, the latter two being roughly equivalent.
It should be pointed out that Digital already represents more than 12% of the world's electricity consumption.
In fact, it represents "only" 3% of final energy consumption. (the energy used by the consumer, i.e. after transformation of natural resources into energy and after transporting it).
However, collateral problems (mining, water, etc.) must also be taken into consideration.
By comparison, electricity in France represents 25% of final energy consumption. https://urlz.fr/dQok https://urlz.fr/dQol
The last intervention, that of Vincent CALLEBAUT, founder of Archibiotic, was absolutely fascinating. I let you discover his work on this site that combines Tech / Biomimicry / Architecture in the service of our life together http://vincent.callebaut.org
His observation is strong, we are today more than 7 billion, in 2050 we will be 9 billion and in 2100 12 billion, his goal is to create eco-responsible projects that respond to the problem of housing cities and food for its inhabitants.
Here's a nice way to finish my post with the image of this green tower in the shape of a double helix.
Its purpose is to depollute the city of Tapei in Taiwan by removing 130 tons of CO2 per year.
technology sido conference digital sobriety resources environmental impact tech