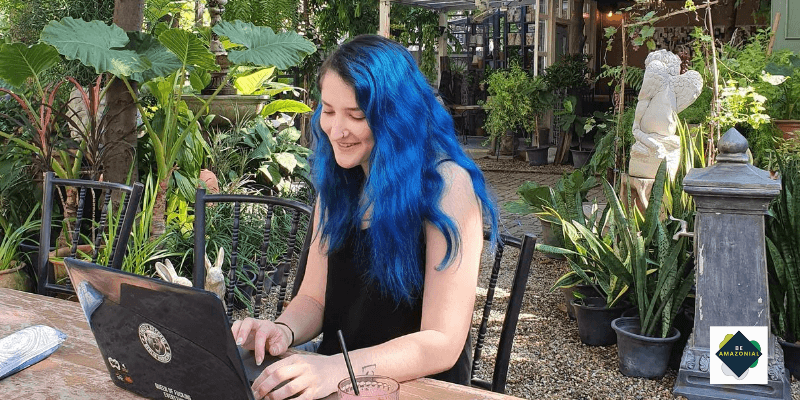 Interview with Alex Carmona - ethical agency Sollya
Alex Carmona is consultant in ethical communication and freelance responsible webmarketing. She also creates online trainings accessibles for every people to learn diy communication. Today her motto, " to do its best to make a better and more fair world"!
After many unsatisfactory professional experiences and to be in accordances with her values, she decides to try out and to found the ethical agency Sollya in 2017.
Also to her credit, the podcast Geek for Good where she asks question with experts about the new technologies impact on our society. Two episodes on The women place in E-sport and the web accessibility are already available.Other episodes are work-in-progress, for exemple about the digital eco conception. To not miss them, be in standby mode!

In our interview, we talk about responsible communication and ethical marketing. While the ecological transition agency ( ADEME in french) publishes for some years the Responsible communication Guide in order to help the companies in the reduction of communication impact, more and more professionals get involved in this process to communicate. But what are we really talking about?
First overview with ALex Carmona, expert in this question.

How would you define the responsible communicatio and the ethical marketing and what is the difference between them?
« Communication and marketing, already in normal time, it's not easy to dissociate because the first one has consequences on the second and do with one but without the other is difficult. Normally, we start with the marketing strategy, it means the surveys on the target, the competition and so on in order to define the positionning you will apply then in your communication actions. This is your communication strategy. it's the difference, we can say "in classical version".

« Concerning the reponsible communication and the ethical marketing, nowadays everyone has its own definition.
According to me, after many researches and experiences, I was focused on my personal values - feminism, veganism, to have a fairer world... - and the three pillars of the sustainable development - social, economical and environmental - so as to propose an ethical and responsible marketing definition.
When we talk about ethics, it's not a question of ecology and environment ! it is also the whole social side which is important. And also for the reponsible communication and the ethical marketing, it's to work for a fairer, more inclusive and sustainable marketing, communication and world.

Concretely, the responsible communication and the ethical marketing are represented by many aspects:
At the beginning, the basis it's really the authenticity : it means to not lie and to be consistent with its positionning.
To be inclusive, differently said to promote diversity with a non-stereotype, non-gendered,antisexist,antiracial representation.
To have the weakest impact possible. It's from this point that we will talk about eco reponsability, we think with an eco conception logic : to think ahead the real needs and challenge each time what we do. For exemple, for a website, it's ahead, even before to build the website we wonder : do we really need of this website? Because sometimes, the solution can be to not do a website. If it's a real need, which tool to choose? Then choosing a tool which will be the most adapted. It's also to think about website hosting.
It's also linked to the ecological process that we will talk about slow communication, it means less and better communicate.
Finally :
« The ethical marketing, it's to transfer the goos message according to our values, to the good person and in a way to have a positive social, economical and environmental impact ».

With the awareness of some people in marketing that citizens are more and more sensitive to the environment protection , today the environmental question is strongly taken over in the communication campaigns as a marketing argument. Sometimes, those brands don't even act for the environment. We call that greenwashing. But can you say more about the greenwashing and more widely about the washing?
« On this question, we will find again many profiles:
The organizations which don't even know there is an ecological crisis which arrives and they do nothing.
The organizations which know and are concretely involved, authentic and align with their approach.
And the organizations which know there is an interest and will try to ride the wave. It's from this point we will talk about (green)washing. It can be the companys which try to sell but also the communication, marketing, web providers and so on.
Washing is practice used by a non-authentical structure, which is non aligned at 100% with what it says.
There are a lots of different washing forms. The most famous is also the greenwashing. This practice can either be in a circuitous way or deliberately misleading.
In a circuitous way, the organization can try to hide bad uses so as to have a better image.
Typically, an an exemple that I like is the case of a big company which, in exchange of the buyout of its products, guves 3% to an association. We can talk about washing in this case because the company will try to associate with it the positive image of a collective while concretely, she's doing nothing and won't change its uses!

To counter those uses, it's simple. Either we are "spectators" and we can show those uses to the organizations and to people around us. Or as "player", it's to try avoiding to lie, to be consistent and aligned from the beginning to the end. The goal is not to be 100% ethical because it's impossible to achieve it.
The objective is to :
Be conscious of what we do well and what we do badly in order to improve ourselves as much as possible.
Be the most transparent by giving free access to all its data as we can check them, but also give proofs.
And to be honest on what we can improve".
Are your customers involved in a reponsible process?
« As consultant in responsible communication and webmarketing, I only work with social economy organization. So with agency of ethical communication Sollya, the answer is yes. But at different measures and different levels ! I can meet people who are for free softwares but for those the ecology is not important. Or people "for the ecology" but who consider the inclusive writing is not an issue. The purpose is to raise their awareness about other issues to make better.

Also I try to raise awareness to the general public here and there, with my podcasts and my conferences, or with my online trainings about communication that concerns everyone.».

To conclude, let's leave the final word to Alex Carmona :

« When we are someone who communicate, a professional of communication or marketing , or just a professional, it's really important to pay attention to what message we will send.
The content or the form, we have a real impact - social and environmental - on the society and it's an impact that will also change the vision of the world by humans. Typically, when we will make advertising which only show photoshopped, white, skinny women and so on, everything whoch is advertisment, medias, contents, will transform our reality and will give us a fake vision of normality..
And that's why, whatever the message we send, we need to be really careful about the power we have"


To discover more about the work of Alex Carmona :
Her professional website and her blog with many resources : https://www.sollya.fr/
Her LinkedIn profile : https://www.linkedin.com/in/skalxdesign/
communication engagement digital sobriety women and digital women and ecology digital maintenance