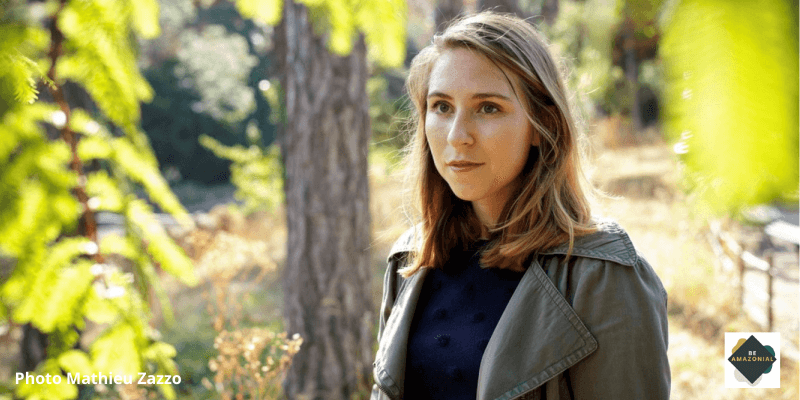 Interview with Claire Pétreault, Head of com ChangeNOW
Claire Pétreault is 25 years old. a 25 ans. Gradute of Science Po Paris in 2019, her studies are dyed of social and political sciences but also of digital because she chose in 2nd year of master degree, pathway "Innovation and digital transformation" in Télécom Paris. Nowadays, she leads the communication of ChangeNOW.
In June 2020, she decides to write a forum in Usbek et Rica to underline a contradiction: a majority of women are comitted in ecologist movements but in general they are absent in decision-making authority for the questions about ecological and energy transition.
Comeback on her path.
A progressive awakening about feminist and ecological questions

The topics about feminism and ecology have been crossed incrementally of her meetings, observations and professional experiences.

Her feminism is claimed in US during an academic experience in a course of Media Studies. Also she is interested in the ways whose medias deal with topics and represent the population.

Amingst others, what is stricking her: the sparsely-high number of first feminine roles in movies. The survey of the Center for the Study of Women in Television and Film had also analyzed the 100 biggest successes in 2019 for the american box-office(1). The result demonstrate that only 37% of main roles are belonged by women. Actresses who the main activity consists oftently to speack about " men or shampoo".

After this experience, Claire decide to turn towards communication and to work in medias to "try to changes things".
During successive traineeships, she's linked with operators of Social and Supportive Economy and founders of positive-impact start-ups. Among them, the traineeship done in the Drenche, media which proposes Pros and Cons for every topics dealt, at the time incubated at Makesense as To Good To Go or We Can Do. It's there the young graded understands that we can really undertake and make a social and environmental mission in the heart of its development.

Her ecological awakening during a traineeshi in Ruche Qui Dit Oui! where she creates a hive in the region of Angers. She sets out to meet beekeepers, by learning more about product seasonnality and to reconnect herself to her past because her grand-parents were beekeepers. Still in Angers, she works for Cocycler, organisation which values the organic waste to make compost.

During her last year of master degree, she does a traineeship in ChangeNOW, where she's still working, because, she said: " ChangeNOW really aggregates all the projects I've loved working on". Now, she leads with pleasure the communication of this media which sends strong messages and also the message of today " we can't make business anymore whithout wondering what is the impact on the planet and people. "

How to break the "glass ceiling"(2)?

Through her professional and personal experiences, Claire faces to a paradox: a mojority of women evolutes in an ecology and social and supportive economy environment but very few women are showcased in the medias or particpates in decision-making process. So, for one year, she observes, notes anecdotes in the corner of her head and aggregates data. Then she finally decided to write a forum published by Usbek and Rica: « Femmes et écologie : nous sommes plus que des végétariennes zéro déchet ». To fight against woman invisibility in this field, the author of this forum propose also an analysis in three times:

• Firstly, to recognize that the access codes in power on our occidental society have been created by men and for men. The women are not educated to these codes. It's also difficult for them to play a game that they don't know the rules.

• Then, the positive discrimination can be a tool to help to balance: by encouraging women to take more responsabilities, we send positives signals to other women which look ahead more easily. The inspiring role models are part of levers to active in order to pave the way. However, the quotas shouldn't be an end in themselves.

• Finally, the gender of people doesn't determine more the access to job or functions than others. If today, this falls under utopia, it's a process whoch will take many years but which -thank's to concrete actions - will be possible.

More widely, it's the way whose we think the thing that needs to evolute. To rethink study programms or change the names of streets ( Nowadays, only 2% of french street have a name of women(3)) can also have an impact on the way that we represent power.

Ecological and energy transition : "To use digital wisely"

During this interview, we evoked the digital place in the ecological transition. " Digital is obviously a way but shouldn't be a prupose". we always need to ask the question " Do I bring more by connecting myself via digital or do I cost more in terms of carbon footprint?"
According Claire, the question is not so simple because "to forsake of digita, it's unfortunatly to self-exclude of market such it's exists today". Digital can be useful if it's used "wisely", for exemple if it can help to consume better by informing more about things that people weren't enough aware and have an access, to sum up, " to awake, to educate and to ease the connexion". And it's not a question to go to fast in transition at the risk of losing users. It's necessary to support them in their habits of a more responsible digital.

Her inspiring quote

"The future is not what's going to happen to us but what we're going to do", Henri Bergson

(1) Dr Martha M. Lauzen. It's a Man's (Celluloid) World: Portrayals of Female Characters in the Top Grossing Films of 2019. 2020.
(2) Pétreault Claire, « Femmes et écologie : nous sommes plus que des végétariennes zéro déchet ». Consulté le 8 juillet 2020. https://usbeketrica.com/article/nous-sommes-plus-que-des-vegetariennes-zero-dechet.
(3) Nous Toutes
covid19 women and ecology women and the digital world place of women commitment media